News
An exhibition of my work on Polish Jews from 1975-2018 is currently on view at the Galicia Jewish Musuem in Krakow until August 15, 2019. It is free, open to the public and consists of 73 hand printed silver gelatin photographs.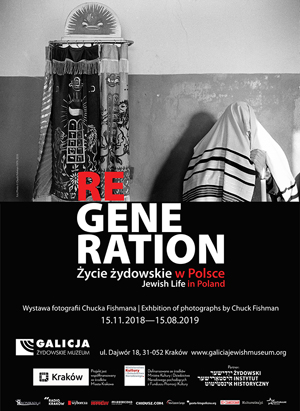 _Associated Press syndicated an article about my work and this exhibition when it opened at the Jewish Historical Institute in Warsaw in August 2018. Link to the article: https://apnews.com/d0f0877ffb93477eb24bad66428585b9
-Vogue Polska magazine article about the exhibit (turn on translation unless you read Polish): https://www.vogue.pl/a/odrodzenie-polskiej-spolecznosci-zydowskiej-na-fotografiach-chucka-fishmana
-Handmade silver gelatin prints of black and white photographs on this website are now available for purchase. Please email for details.
-A two minute interview, conducted in Warsaw's Keret House, with Chuck discussing his 40 year project on Polish Jews can be seen by clicking this link.
-A short video of my work Polish Jews work, made by the World Jewish Conress, can be seen here:
https://www.youtube.com/watch?v=Jf5gPIFjj4Y&t=
-
Chuck in action on a "fashion shoot in Soho", which aired on NBC's "Today Show with Kathie Lee and Hoda". The young women being photographed are associated with Foster Pride, a non-profit organization that mentors foster kids in NYC.