chuck@chuckfishman.com

212 674-1974
845 634-8302
on instagram:
@chuckfishmanphoto
***
on facebook at:
Chuck Fishman Photography
News
-A new 6 minute video from my work on Polish Jews and the opening of Re-Generation, filmed at the Jewish Historical Institute in Warsaw, can be seen here: https://www.youtube.com/watch?v=Kib7A2krDh4&fbclid=IwAR29iS14mWYsLw0qIZcRLczqwrf9XGGlIonlnb73oYel_jQpWMkDDhAXJvQ
_Associated Press syndicated an article about this work and exhibition, Re-Generation, when it opened at the Jewish Historical Institute in Warsaw in August 2018. Link to the article: https://apnews.com/d0f0877ffb93477eb24bad66428585b9
-Vogue Polska magazine article about the exhibit (turn on translation unless you read Polish): https://www.vogue.pl/a/odrodzenie-polskiej-spolecznosci-zydowskiej-na-fotografiach-chucka-fishmana
-A two minute interview, conducted in Warsaw's Keret House, with Chuck discussing his 40 year project on Polish Jews can be seen by clicking this link.
-A short video of my work Polish Jews work, made by the World Jewish Congress, can be seen here:
https://www.youtube.com/watch?v=Jf5gPIFjj4Y&t=
An exhibition of my work on Polish Jews from 1975-2016 (Roots, Resilience & Renewal) will be on view at Temple Israel in West Bloomfield, Michigan from December 20, 2019 - May, 2020. It is free, open to the public.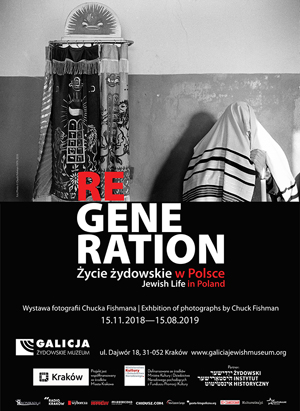 *ALL ORDERED PRINTS FROM MY WORK ON POLISH JEWS WILL INCLUDE AN INSCRIBED COMPLIMENTARY 120 PAGE EXHIBITION BOOK / CATALOGUE ON THIS WORK CONTAINING BOTH PHOTOGRAPHS AND ESSAYS BY LEADING HISTORIANS. IF INTERESTED IN THE BOOK ONLY, PLEASE EMAIL CHUCK@CHUCKFISHMAN.COM. THESE BOOKS ARE LIMITED.*
-I make my own exhibition quality archival selenium toned silver gelatin prints of black and white photographs on this website. They are available for purchase, signed and come with a Certificate of Authenticity.
The 3 sizes are:
11x14 - $975
16x20 - $1800
20x24 - $3500
*
For licensing usage please email chuck@chuckfishman.com
-
Chuck in action on a "fashion shoot in Soho", which aired on NBC's "Today Show with Kathie Lee and Hoda". The young women being photographed are associated with Foster Pride, a non-profit organization that mentors foster kids in NYC.